Vitamin B3 (Niacinamide) Barrier Repair Cream for dry and sensitive skin with Penetrative Base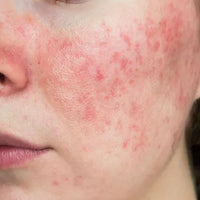 Acne Rosacea is a common skin disorder. Typically I would see 4 or 5 new patients with this condition each day. It typically begins with a person who flushes and blushes. This flushing and blushing becomes progressive and they develop central facial redness and acne. Therefore the term acne rosacea; acne occurring in a person with a pink face.
There are 4 different forms of rosacea. The first is the classic flushing and blushing and central facial redness. The second is in folks who have much more active acne. This may range from single pimples to multiple markings and a progressive severe disease. We say acne occurring in people over 30 is due to acne rosacea. Two other forms of rosacea are worth discussing because they are not what you would normally associate with rosacea. One is the development of progressive thickening, particularly of the nose but also central face. This is also associated with large thick pores. This may go on and progress to a very disfiguring lumpy bumpy nose. The 4th form is described by the term 'ocular', meaning focus with symptoms around the eyes. Beginning as dry, gritty, watery, or burning eyes, the symptoms can progress and become debilitating. The acne component consists of inflammatory lumps which show us as pimples or sties, typically in an around the eyes. There also can be visible blood vessels. When you examine the eyes, they typically look red and irritated.
What happens with treatment? In general the treatment of rosacea with topical niacinamide is highly satisfactory to the patient. For the most highly sensitive skin patients who are adverse to using topical creams, oral niacinamide is effective. They note within a day or two of treatment that their skin becomes to feel much more normal. The stinging and burning is markedly reduced. Significant improvement in the overall redness, flushing and blushing, and the frequency of acne are all reduced after six weeks of treatment. The thickening of the nose takes longer to respond to treatment. Eye symptoms again markedly improve typically by six weeks.
The treatment plan is usually six months duration. After that time, treatment is withdrawn. It is repeated when there is a repeat of the symptoms. Some people are on continuous niacinamide, with NO harmful side effects.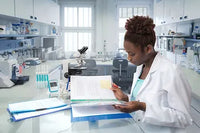 The heated debate about the safety of retinyl palmitate, an ingredient found in many skin care products, can finally be laid to rest. As more research has become available, is it clear that retinyl palmitate is safe. Retinyl palmitate offers many benefits and is an ingredient that is highly recommended by leading dermatologists.
The dispute began in 2010 after an FDA study stated that retinyl palmitate caused cancer in laboratory mice. At face value, this seems like a simple case of cause and effect. However, after digging just a bit deeper, it is easy to see that there is more to the story. According to an article in the "Journal of Drugs in Dermatology" in an article called "Vitamin A and It's Derivatives in Experimental Photocarcinogenesis: Preventive Effects and Relevance to Humans", the authors state, "The data summarized in this review clearly indicate that SKH – 1 mouse skin is significantly more photosensitive than human skin and that retinyl palmitate is not only safe for topical use but that it may provide a UV-protective effect when incorporated into skin care products." This is incredibly important and bears repeating: the skin of mice is thinner and more susceptible to sun damage than human skin. Consequently, the mouse skin in the study developed cancer regardless of the topical additives placed on its skin, simply because the skin is thinner and more sensitive to harmful UV rays. Therefore, retinyl palmitate is a completely benign ingredient.
Even more compelling is research that is coming forward that indicates that retinoids like retinyl palmitate are likely an effective agent for acting as a sunscreen to prevent skin cancer. The same article in the "Journal of Drugs in Dermatology" also asserted that, "RP can exert a photoprotective action in skin by absorbing UVB radiation. This protective effect was demonstrated when topical RP or sunscreen were applied to the buttocks of human volunteers and followed by a 4 MED exposure, both agents provided similar protection level in thymine-thymine (T-T) dimer formation and in the development of erythema." The authors went on to add, "The SPF value for topical RP (2%) was calculated to be apporoximately 4, suggesting an additional protective mechanism that resulted in a performance equal to SPF 20 sunscreen." This is incredibly important because UVB rays cause sunburns and thymine dimers are DNA mutations associated with skin cancer. Preventing the formation of thymine dimers and shielding the skin from harmful sunburns by using retinyl palmitate as a sunscreen is a wonderful way to protect the skin.
Not only can retinoids like retinyl palmitate act as a sunscreen, but they have also been proven to reduce the severity of skin cancer in studies that used not just mice, but humans, too. The study reported in the "Journal of Drugs in Dermatology" underscored this finding by stating, "Retinoids also inhibit tumor formation and skin cancer development in experimental systems and in humans."
It's clear that there is overwhelming evidence available to support the claim that retinlyl palmitate is not only safe, but is the single most important known compound to reduce the frequency of skin cancer, as well as provide protection as an effective sunscreen. ref Shapiro S, Seiberg M, Cole C. Vitamin A and Its Derivatives in Experimental Photocarcinogenesis: Preventative Effects and Relevance to Humans. J of Drugs in Derm: 2013:12 (4) 458 - 463.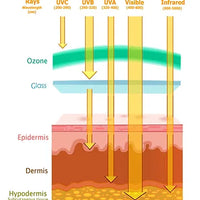 The sun releases its energy in little packets of energy called photons. The photons have many different wavelengths. Some wavelengths produce heat, other wavelengths create visible light. Science traditionally taught us that the most damaging rays were in the invisible or ultraviolet wavelengths. The ultraviolet light spectrum is divided into UVB ultraviolet spectrum (the sunburn rays) and UVA (the tanning rays). Recent studies suggest that in fact at least 50% of the injury is a result of exposure to visible and infrared light (32).This is an important change in our thinking because sunscreens are designed to protect us only from UVB sun burns and most of UVA. The spectrum of action in Topical Vitamins covers the entire spectrum - UVB, UVA, infrared, and visible light.
When photons reach the skin's surface they enter the skin. When the energy of that photon hits a skin structure a chemical reaction occurs, releasing free radicals. These are highly energized molecules which damage the cell. When free radicals strike DNA, a structural change occurs which may eventually lead to skin cancer. When photons hit collagen fibers, the free radicals attack the collagen and break the collagen strands producing lines and wrinkles. Free radicals cause the epidermal and pigment changes Actinic lentigo. Every day in the sun we absorb millions of photons of light. These photons may be absorbed by melanin; neutralized by antioxidants or are free to cause random damage. The scientific names can become confusing. The molecules in skin that neutralize free radicals are called antioxidants.